Nature and design combined in the MM Spirit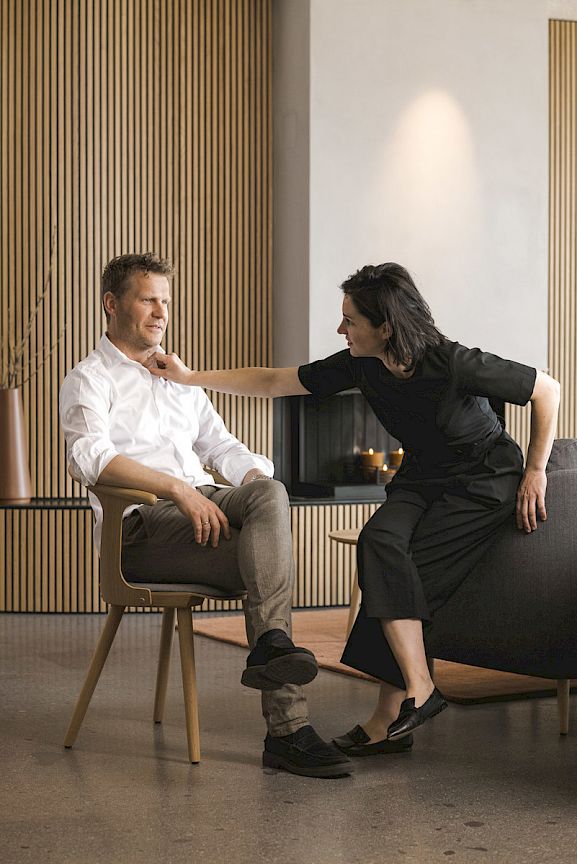 The craftsmen are still working on the final touches.
Slowly, even the small details are finding their place. Scandinavian interiors by Fritz Hansen, &tradition, custom-made products, lamps by Harry Thaler and clay vases give the entire ground floor the desired restrained Nordic-Japanese flair.
With the renovation, we have made the entrance area lighter and freer, and even the walk-in wine cabinet now has a place there. We have given structure to the Klassik Restaurant with many benches and an open coffee bar. The Panorama Restaurant shines with warm solid wood tones and new furniture. The valuable thought "less is more" was decisive for us. Always with the awareness of incorporating the influences of nature. The solid porphyry stone reflects the strength and durability of this environment. The use of warm materials such as oak, linen, natural stone, individual craftsmanship and the striking black elements in the house create a wonderful contrast. The combination of classic designer furniture and natural woodwork creates a harmonious atmosphere. The window fronts for the impressive view were an absolute "must-have". The Tea Room with its own open fireplace, the new fireplace lounge and the MIRAMONTI Bar benefit particularly from this.
Let yourself be inspired by the MIRAMONTI spirit and enjoy the feeling of that certain lightness with us. We wish nothing more than to share these moments with you again and look forward to a magical summer.
"Perhaps never before have we selected materials, surfaces and colours with so much care and consideration as in this project. A light yet deep-sounding spatial experience is built up from the finest intermediate tones and nuances, giving the meeting areas in the Hotel MIRAMONTI a multi-layered yet unmistakable character",
tara Architects from Merano.
"The atmosphere is warm and radiates an unmistakable calm" ,
Harry Thaler, Designer from South Tyrol.